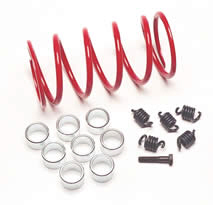 The kit is designed to make better use of available low-end engine torque, improve shift and back shift characteristics, and reduce belt slippage, overheating, and wear.

The kit is specifically tuned for use with the largest, most aggressive mud tires used in very muddy conditions.

OEM's do a great job of designing auto transmission ATV's to perform in normal off-road conditions with stock or nearly stock size tires. When super size tires are used in extreme conditions-C.V.T. Automatic Transmissions are in real need of retuning to deliver their maximum performance. There is virtually no bolt-on accessory that provides the amount of performance gain to a belt driven ATV as a custom tuned clutch kit.

CALL ABOUT OUR CLUTCH TOOL RENTAL PROGRAM!